AN INTRODUCTION TO THE EARLY FORD CAR CLUB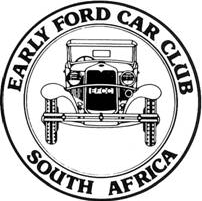 The Early Ford Car Club of South Africa, is a non-profit organisation dedicated to the following objectives:

• The restoration, preservation and operation of Ford vehicles, as well as those of other manufacturers, which are 25 years
and older, or any other vehicle which they deem worthy of preservation, (ownership of such vehicles is not a prerequisite to membership).
• To encourage road courtesy and good driving.

• To hold talks, lectures and similar events of interest to motorists.

• To co-operate by affiliation or otherwise with all or any other bodies, institutions, Or clubs concerned directly or indirectly with motoring.
HOW TO JOIN THE EARLY FORD CAR CLUB
Once you have visited the Club and made up your mind that you want to join the EFCC, then the following will be a typical procedure:
• Fill out the application and indemnity form. The application form should be complete with names and
signatures of the proposer and seconder.
• Submit the application form together with payment to the Secretary.
• The application will then be put to the Executive Committee of the Club, followed by a period of probation.
All Club correspondence and queries must be directed to the Secretary.
Download Member Application Form
Download Indemnity form
Download SAVVA Indemnity Form for Post 1997 Vehicles
Download EFCC Constitution
Click here for contact details.
* Applicable to persons living locally.
• This period of probation, or time is taken to decide whether an applicant's application will be ratified, works
both ways. The Committee has time to verify the applicant's bona fide. The applicant has time to finalise
his/her decision whether to join the Club or not.

• During this time the applicant shall also demonstrate his/her support of the Club by attending
meetings/functions.

• The Committee may accept or reject any application without giving any reasons.

• The indemnity forms are to be completed and signed by you and your spouse, which enables you and
your spouse to attend and participate in any club events.